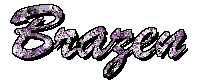 ---
Newsletter
February 2005
---
---
Greetings from the Brazen Hussies!
I'm writing to give you the latest news from the Brazen Hussies — Lisa Goldstein, Michaela Roessner, and Pat Murphy. If you've forgotten, we are three women SF writers who are promoting our work like the brazen hussies we truly want to be. At some point, you asked to be on our mailing list.
This year, the biggest news comes from Lisa Goldstein, who reveals a deep, dark secret. (Well, maybe not so dark, but definitely a secret.)
Lisa writes:
"As some of you on this mailing list know, this past year I published a novel under a pseudonym. I promised several people on the list that I would tell them my pseudonym before the hardcover went of print. Since the paperback is coming out in March, I figure now is the time. The book is Daughter of Exile, and my pseudonym is Isabel Glass (I borrowed the name Isabel from Point Isabel, the dog park where I walk my dog.)
My editor wanted me to use a pseudonym for Daughter of Exile because it's a little different from other books I've written. In this novel, I wanted to write something ambitious that reached back to the roots of high fantasy — myths, folktales, and stories of people coming into power and responsibility. Naturally the book was labeled "Romantic Fantasy." Because of that, reviewers more or less ignored it. (There were a few brave, notable exceptions. Patricia McKillip called it "an intriguing and fast-paced journey," which made me very happy. Kirkus Review described it as "ingeniously plotted, tellingly detailed.")
Currently, Daughter of Exile is available in hardcover. The paperback will be out in March. And in July, The Divided Crown, a second novel by Isabel Glass, will be coming out in hardcover."
In other news, Lisa has a story in the October/November issue (the anniversary issue) of Fantasy and Science Fiction, called "Finding Beauty." It's the story of Sleeping Beauty told from the prince's point of view.
Michaela Roessner reports that she has a one-person show opening at the Sylvia Winslow Art Gallery in the Maturango Museum in Ridgecrest this Fall. The works on display — an assortment of small pastels and very large gouaches — are all from her "Landscape as Architecture" series.
Michaela has also been dealing with something that all of us who spend long hours at the keyboard dread: carpal tunnel syndrome. Recently, Michaela had carpal tunnel surgery on her right hand. The surgery went very well. She's recovering nicely and anticipating a similar surgery on her left hand in March. Not surprisingly, she has been focusing on writing short fiction during this period.
After she recovers from the second surgery (whew!), she plans to focus on novels. She'll also return to teaching for the Gotham Writers Workshop, which offers comprehensive classes in more than a dozen forms of writing online and in Manhattan. (Michaela taught at Gotham as a sabbatical replacement Marta Randall last fall.)
In 2004, Michaela published two shorter works in 2004. Her novelette "Inside Outside" went up on SciFi.com in January. This is the first of a planned series of interlinked stories about a group called The Worshipful Order of Serendipitous Pursuits Executed With Fiendish Ingenuity. "Del Norte," a story about the fate of one of Montezuma's daughters after the Conquest of Mexico, was published in an anthology titled Conquerer Fantastic, released in spring 2004. The book is still available.
And as for me, Pat Murphy, I'm pleased to announce that two of my stories have been selected for Year's Best anthologies.
"Inappropriate Behavior" appeared on SciFi.com. The story will be republished in Year's Best Science Fiction, edited by Gardner Dozois and published by St. Martin's Press.
"Dragon's Gate," a coming-of-age story with dragons that originally appeared in Fantasy & Science Fiction, will be in Year's Best Fantasy, edited by David G. Hartwell and Kathryn Cramer and published by HarperCollins Eos.
I'm currently working on two novels, both based on short story projects. In both novels, I continue to explore what I realize is my current obsession: how the stories we tell affect the people we become. (This is, of course, the underlying theme in my novel Adventures in Time and Space with Max Merriwell.)
For Firebird Books. I'm writing Wild Girls, a young adult novel that expands and explores the lives of the characters in the short story of the same name. This novel will explore the power of storytelling and the boundaries between metaphor and reality. Though the novel won't be science fiction or fantasy, it will include bits of science fiction and fantasy written by the characters in the book.
Inspired by the fun I had writing "Dragon's Gate," I'll be continuing the tale of Alita, the story's main character, in a novel titled The Dragon, The Princess, and Me. This book will tell a heroic coming-of-age tale with dragons, pirates, a flying carpet, plenty of swordplay, and a princess or two. On a deeper level, this novel will examine the nature of storytelling and fantasy. (Yeah, yeah — I know. I set out to do that in Adventures in Time and Space. I guess I'm just not done yet.)
That's all the news we've got right now. More later — at totally irregular intervals.
Brazenly yours,
Pat Murphy
Temporary Acting Propagandist for the Brazen Hussies
---
Copyright © 2005 by Pat Murphy
---
Brazen Hussies site space maintained by
---

Backgrounds by Windy
---
---
---